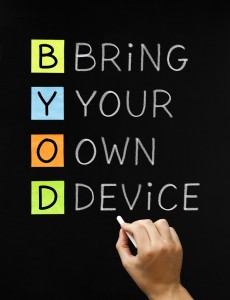 BYOD is in full swing, but most businesses are not prepared for it. In order to maintain a high level of security, companies that embrace the movement, or want to, have to change, or adapt, their existing policies to accommodate the wave of devices their employees are bringing in, which is not what 55 percent of them are doing, according to a study issued last week.
Samsung is among the few mobile devices manufacturers to take an active role in ensuring its products are BYOD-ready and enabled straight off the bat. Its response to the movement is Knox, a solution the company released one year ago, to augment the Samsung for Enterprise program. And, now, the successor arrives to beef up Knox even further.
The latest, and greatest, Knox iteration was unveiled at MWC 2014, in Barcelona, as a major upgrade over its predecessor. Samsung even released an SDK (Software Development Kit), which includes over 1000 APIs, to allow customers to tailor the BYOD solution to fit their needs.
There are improvements related to security and flexibility, like two separate containers per device which will come in handy for those who have two jobs and wish to keep related content isolated. Google Play software that supports the Android multi-user framework can now be used inside Knox containers. IT administrators can control what is installed on Knox-toting smartphones and tablets, through app whitelists and blacklists.
There is also a new feature that pertains to the security of the installed Android distribution. The new Knox iteration adds a real-time monitor for the operating system's kernel that is touted to improve the protection against malware. Check the link in the paragraph above for the complete changelog.
Alongside the beefed-up Knox, Samsung also introduced the Knox Enterprise Mobility Management (EMM) and Marketplace. The former aims to give customers a "simple, effective and affordable way to manage their mobile devices, user identities, user access privileges, role-based policies, and deployed apps", while the latter is basically an app store for Knox software and SaaS (Software as a Service) solutions.
As you might expect, the latest Knox iteration will be available in select Samsung smartphones and tablets. There is no information at the moment that mentions the exact release date.
Photo credit: Ivelin Radkov/Shutterstock
Source :
http://betanews.com/2014/02/26/hey-byod-samsungs-new-knox-is-here/